This is yet another Webster University Gorlok quilt.  I really loved making this one as I discovered an extra-fun design from Sew Adorkable.  Back in the day when our calculators could just do simple operations, we used to write words using the number pad and then flipping the calculator upside down.  Basically any word using only the letters B E H I G L O S could be written.  The girls tended to type in 0.7734 (when the fours used to be written with  2 vertical and one horizontal line rather than the modern 1 vertical, one horizontal, and one diagonal)   and the boys would write 58008 and variations thereof.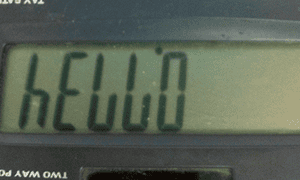 In any case, the recipient's name is Bobbie and of course her name can be written on a calculator.  She had several Webster World Works shirts with numbers on them and other Webster items as well.  Not all the numbers on the keyboard hav an actual number shirt but she did have a mousepad we used for the decimal point key and the bottoms from drink koozies that were used for the dots on the division sign. I was also supplied with a couple of Webster totebags that we incorporated as well.
The mousepad was difficult to applique and didn't look great when it was done so I embellished the circumference with a gold lace.  All the quilting was just machine-stippling.
And then someone snuck into my quilt studio and decided to help….
I  rarely take photographs of myself but our Main Campus asked the various departments to depict ourselves doing something fun and/or silly.  As I explained in the statement that was submitted with the pictures, quilting is fun for me and I know the design was silly but I couldn't resist as I am sort of a geek at heart.